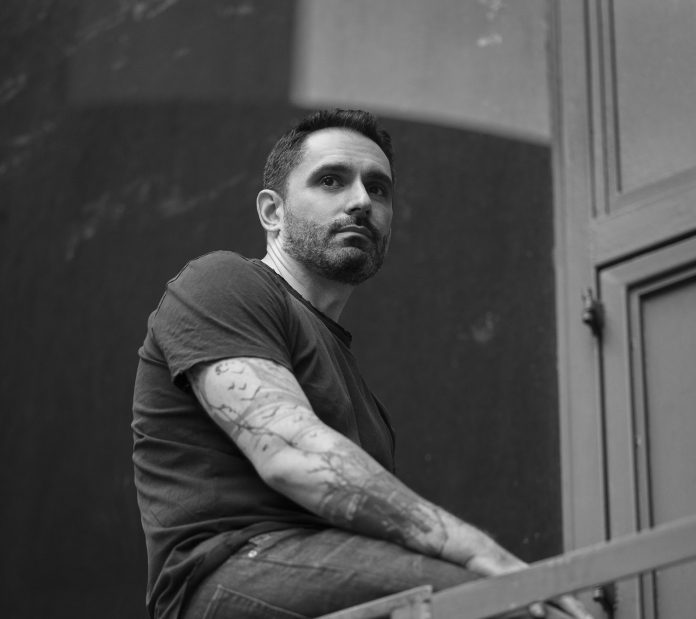 Dark electronic pop producer Verasect has just had his 'Catch Your Breath' track remixed by Dobie via Terminal Blue records. The remix was premiered via The Playground before being released on the 23rd of August. The track is the third remix Verasect has released ahead of his upcoming remixes EP, 'Awakenings'. The EP will also feature the same track remixed by the late Øfdream.
The track features a harsh mixture of drums meeting a smokey womans voice. We see elements of Trip-hop rise to meet both with a solid bass line to hold it all together. The result is a gradual build that gets your heart pounding and yet soothing it at the same time. The final electronic push of a kaleidoscope of sounds pushes home the individuality of the track.
We went hunting for the foretold sincerity with the British producer and peeled back his many layers. Read what truths he had to tell below
Hi Verasect,  thank you for taking the time to chat with us. What has been the highlight of your week so far?
This week I've been lining up vocalists for the next EP. I've found three talented women with unique voices that I'm very excited to be working with. I have also been wandering the London streets at night filming some videos that I hope to have out soon.
To those not familiar with you, how would you describe your sound?

I usually explain Verasect as dark synths with big beats and ethereal female vocals. A tug-of-war of melancholy and aggression in a perpetual dream-state.
What is the inspiration behind your name?
Verasect is a condensation of the Latin phrase Veraciter Sectari  which means "hunt the truth". So many of individuals' and the world's problems can be attributed to avoiding or denying the truth. Looking internally and being truthful with yourself is hard and often painful but is the only way to grow as a person. Those revelations have been my inspiration for writing music.
You've released a string of remixes with the 'Catch Your Breath (Dobie Remix)' being your latest one. What do you enjoy so much about having your work remixed?
I never thought much about having my work remix until Dobie asked for the stems for Catch Your Breath. I tend to not listen to many remixes myself but after I heard Dobie's version, I knew I wanted to do a full EP. Hearing others take what you've done and twist it in totally different ways is fascinating. This also lead me to do my first remix which I did of Cheerleader by Luna Shadows.
Tell us some of the highlights and lowlights of working with Dobie?
Dobie has really opened my eyes to a different way of producing. I'm the type to sit behind the computer and overthink every creative decision in the songwriting process. Dobie has a much more laid back approach. He also pushes me to write more and to release more. The latter of which I'm still struggling with.
There haven't been any lowlights of working with Dobie but we both have been through our share of personal struggles over the past year that I rather not go into detail about.
Who are the 5 most influential artists that have impacted you the most throughout your life?
As a kid I was a full-on elitist metal head and it wasn't until high school where my musical journey took a turn. I met an interesting friend who was quite experimental and exposed me to a bunch of new music, art, books and philosophy. He would play me a few songs during lunch and most of it was too weird for me at the time but I remember really liking a song by KMFDM. On a whim I bought their album Nihil as was hooked. I had never heard mixing heavy guitars and electronic beats before and it took me down the rabbit hole of industrial rock for years.
Three years later I got my fake ID and was hitting up the New York underground clubs and was being exposed to all new sounds. I remember being on the dance floor and an epic song coming on that had me in a trance for a full nine minutes. I went right up to the DJ after and found it was Figurehead by Covenant. It was so futuristic yet the lyrics were emotional and poetic.  They took me away from rock and since then I full embraced synth-based music.
In my 20s I was dating a girl with great musical taste. She exposed me to so many new bands that I listen to to this day. In the car she played Your Joy Is My Low by IAMX which was so strange but grew on me quickly. I soon moved on Chris Corner's first band, Sneaker Pimps and fell in love with the melancholy and slower tempos for trip-hop.
By the late 2000s I started getting board of new music and stumbled across Alice Practice by Crystal Castles. Had never heard anything like it before and it got me back into music again. It also opened my eyes to what was happening in the indie electronic scene and all the branching genres, particularly wave and witch house.
The most recent band to influence me is Chvrches. Around this time I was writing the first music for Verasect and I became hooked on their retro analog sound. They inspired me to get out of the computer and write music on keyboards again. Soon after I bought a Prophet 12 which is I wrote most of the hooks for Sleep Stories on.
Do you have any particular gigs or festivals that you dream about playing? 
While I'd certainly jump at the chance to play a festival, that's not something I'd personally enjoy very much or that is well-suited for my music. I'd prefer a small intimate crowd in a dark basement in Berlin where people know the songs. My dream gig would be more about playing with artist that I admire.
Last words for your listeners?
If you love music, try making it. Not every great musician is naturally talented or classically trained, but every single one started by being moved by someone else's work.
Follow Verasect:
Website  – Facebook  –   Twitter   –  Soundcloud  –  Spotify  – Instagram
Follow Dobie: