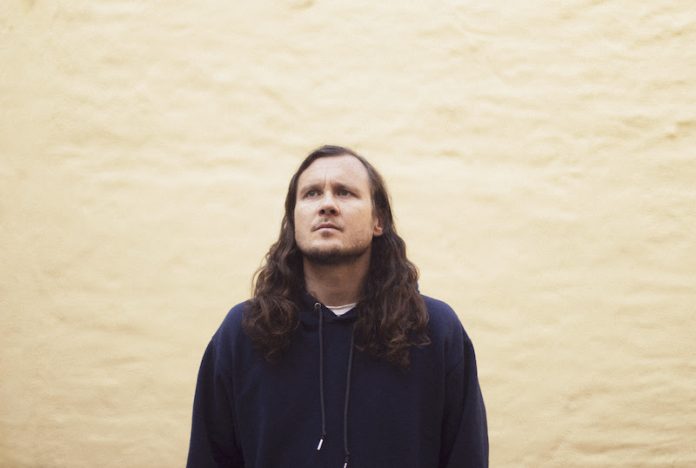 Gothenburg artist sir Was, aka Joel Wästberg, has announced his new album Holding On To A Dream is set for release Sept 20th via Memphis Industries. The lead single from the album "Deployed", which features Little Dragon, is streaming online now. sir Was is set to play a UK tour this November.
Speaking about the how the collaboration with Little Dragon's Yukimi Nagano came to be, sir Was said "Me and Little Dragon go way back. I've been hanging out with them for many years, and they were very supportive with my first album. One day I was working in my small studio room, and Little Dragon were one floor up. Yukimi knocked on the door and asked if she could listen. I played her some of my songs and she said, "This is great, go out and talk to the world!"."
Beautifully bright and sincere, 'Deployed' is a perhaps the most vivid pop song that sir Was has released to-date. "Just when I thought I was done with this new album the song came along and took me by surprise. Straight away I could hear Yukimi's voice on it so I just felt like I had to ask her to do it. I sent her the track and she said she'd love to sing something on it, so I went to their studio and she wrote a few lines based on my verse and the chorus of the song. It all happened so fast and then we had this song. It was really fun."
If dreams can be realised then they can, in turn, become something tangible, something that can be built upon and altered, something that can be held on to. It took Joel Wästberg some fifteen years of self-encouragement to finally release his music. Growing up in a small town in a tiny village on the western coast of Sweden, that dream drifted and faded before finally coming to fruition with the release of both his 2016 EP 'Says Hi' and subsequent debut album 'Digging A Tunnel', the latter of which was released to universal acclaim back in 2017.
The culmination of many years spent writing and recording only for himself, the reception to his debut work changed something in Wästberg, diluting the nervousness that had held him back for so long and filling him with new desires."Making this album I felt less scared about being judged or measured," he says. "I made my first album not knowing if a "real record label" would pick it up. I was shocked that so many people really heard my music – I still am."
A couple of years on from that initial release, the Gothenburg-based producer returns once more with a brand-new collection of songs suitably-titled Holding On To A Dream. Negating the difficult-second-album narrative, the new album is buoyed by that new-found confidence, the hurdles that he overcame leading him onto a spectacular path full of dense electronic pastures, of gleaming new colours and patterns. Where once there was trepidation and anxiety, Wästberg's new work can be seen as a celebration of self-conviction, a record that sees him step out of the background and into the spotlight, unafraid to document all the highs and lows, the darkness and light. [pleasing bit repeats in the following quote]
"I'm ready to be a bit clearer and outspoken," Wästberg says of his new stance. "The chance of reaching someone is greater than the risk of being misinterpreted. That had been a big fear for me in the past. I was so scared of posting my lyrics on the first album, but this time I'm gonna put all lyrics into the album sleeve. If it can mean something to anyone, then I´ve reached my goal."
Written, recorded, and produced by Wästberg– then mixed, once again, by Henrik Alser in a small cabin in the isolated Swedish countryside – Holding On To A Dream is personal but not private, a detailed account of Wästberg's own life, of relationships found and lost, but also a collection of universal themes: love, fear, and our endless attempts to connect with other people.
"It's the basics of life that I'm trying to cover. Not more, not less," Joel states. "I can only dig where I stand but I'm am convinced that if you dig deep it will resonate in others."
Taking all he learned from that first chapter, the new record is bold and bright, a significant leap forward from an artist truly growing into themselves. His relocation from a busy city-centre studio to the quiet outskirts had a profound effect on the new record, shifting his focus from the world outside his walls to the one that he was creating within. "The first record was made in what was essentially a rehearsal space, with just one microphone – it was very lo-fi. It was also right next to the trams that go through the city so it was very noisy, which meant I had to be noisy to drown it out. The new studio meant I could make music in silence. It's very quiet there in the evenings so I could be in my solitude without being bothered. It gave me more options to shape the sound of the record – I could allow myself to be so much more delicate."
Not that 'Holding On To A Dream' is a quiet album. Still a mesmerising twisting of genres – from classic soul and old-school hip-hop, to beautifully fresh pop structures – the new record is dense and adventurous, a sonic-leap forth. "I was interested in having a lusher sound, more rich," Wästbergsays. "With the first record I had this idea that I wanted it to sound like an old vinyl record. I wanted this lo-fi, old-school sound. When I realized that I was actually making another album, I felt a bit scared of the whole thing, but it didn't take me that long to realise that the only thing I could do was to make something that felt really right in my body and soul. I've realised that there's nothing to be afraid of. I'm ready to explore so much more."
 A heartfelt accounting of relationships, of knowing when to let go and when to fight for them, 'Holding On To A Dream', like those old soul records that left such an impression on Wästberg, will mean a variety of things to those lucky enough to find themselves immersed in it. "This record is an outlet for the things that are going on in my life, and I'm interested in making music that shapes those things into something that other people can't take something from," he explains. "Listening back to it, it feels like the lyrics and general feel encapsulates some kind of core in the album. It's a question about what and why I'm holding on to a dream. In a way it's a dream that has been haunting me for all my life. To be someone. To show the world and myself that I'm not a failure. To feel free. To feel happy. To not have to worry all the time, just like everyone else. These things are very important to me, and I hope that means they're important to other people too. Most of us know how helpful music can be, helping you to keep your head above the surface. If anything, I would like to make music that can help you keep moving forward – whatever that means to you."
See sir Was live:
28 June – Fusion Festival, Germany
29 June – Hill Chill Festival, Switzerland
19 November – Picture House Social, Sheffield
20 November – Headrow House, Leeds
21 November – YES, Manchester
22 November – Broadcast, Glasgow
23 November – Cluny2, Newcastle
24 November – Hare & Hounds, Birmingham
25 November – Hy Brasil, Bristol
27 November – Scala London
Holding On To A Dream track list:
1. Fly Away
2. No Giving Up
3. Deployed (feat. Little Dragon)
4. No More Seperation
5. The Sun Will Shine
6. Somewhere
7. Lean Into This
8. Speak Up
9. Trust
10. See U Again
11. Pin Me Down