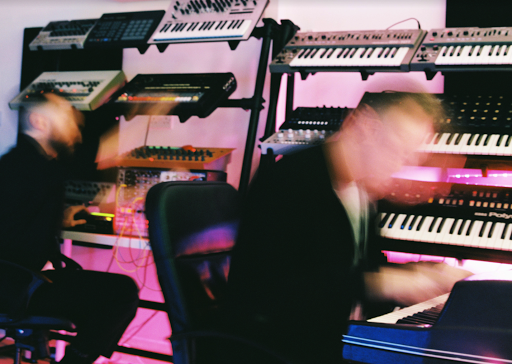 Last Friday saw Bicep take the reins of the BBC Radio 1 Essential Mix, adding some extra shine on a
watershed twelve months for the Ninja Tune-signed duo. With the dust still settling around their landmark debut album, the iconic mix series ties off a success-studded year for the Belfast-born, London-based duo. It features an exclusive track by Hammer (forthcoming on their Feel My Bicep imprint), several unreleased Bicep edits, as well as cuts from Norwell, CJ Bolland and Fantastic Man. They explain the idea behind the mix: "We've both got fond memories of long car journeys spent listening to the Essential Mix. For our contribution, we wanted to do something different to our normal club sets: exploring the influences behind our album and touching on genres we wouldn't normally be able to play out."
Releasing their self-titled debut in September, the album runs rich with the warmth of club music's
halcyon days and is a perfect distillation of a sound that's been honed over a decade-long career. 'Bicep' has been heralded as one of the best-realised dance music albums of 2017 which went in at #20 in the UK album charts. The record was framed by impeccable design across the campaign from Portuguese collective Royal Studio. On it, they channel a many-sided, personal gamut of club music influences – including (but not limited to) house, garage, ambient and breakbeat – into an album that's as innovative as it is well-schooled in music, successfully striking that elusive sweet spot: making dancefloor-minded creations that work just as well for home listening.
Inaugurating their stellar live show at Coachella, they toured it to sell-out venues in LA, New York, Japan, across Europe and played the world's most revered festival stages including Pitchfork Paris,
Glastonbury, Dekmantel, Melt! and Primavera. They sold out Village Underground in just 3 minutes,
Electric Brixton in 24 hours, with a Roundhouse show in April 2018 close to sold out too. Bicep have
been announced in the first wave of acts for Sonar, are taking the live show across Australia and already have a packed diary for 2018.
Praise was heaped on 'Bicep' by The Guardian, Pitchfork and Resident Advisor, along with gracing
the front cover and extensive feature in Mixmag. Radio 1's Annie Mac has championed all three singles 'Aura', 'Glue', 'Vale' and new track 'Metro' extensively, along with inviting them on to perform a prestigious Maida Vale session while Pete Tong made 'Metro' his Essential New Tune. The album was BBC 6 Music's Album of the Day, where 'Glue' reached the B list and 'Vale' is currently on the A list.
It's fair to say it's been an incredible year, cementing Bicep's clear-eyed vision of dance music's limitless possibilities. Listen to Bicep's Essential Mix here.
Tour dates:
Dec
14 Jaeger, Oslo, NO
18 Rise Festival, Les Deux Alps, FR (DJ)
21 Mondo, Madrid, ES
22 Contrair, Antwerp, BE
23 Modular at Maasilo, Rotterdam, NL
30 Oval Space, London, UK
31 Stealth / Nottingham, UK
Feb
1 FMB at Electric Garden, Galway, Ireland (DJ)
2 FMB at District 8, Dublin, Ireland
3 FMB at Shine, Belfast, UK
March
2 Oxford Art Factory, Sydney, AU
3 Max Watts, Melbourne, AU
9 TBC Club, Brisbane, AU
10 Days Like This, Sydney, AU
11 Pitch Festival, Moyston, AU
April
1 Terminal V, Edinburgh, UK (DJ)
12 Snowbombing, Mayrhofen, AT
28 Roundhouse, London, UK
May
3 Paradiso, Amsterdam, NL
6 AMP Lost & Found Fest, Malta (DJ)
June
1 AVA Festival, Belfast, UK (DJ)
15 Sonar Festival, Barcelona, ES
Get your tickets here.