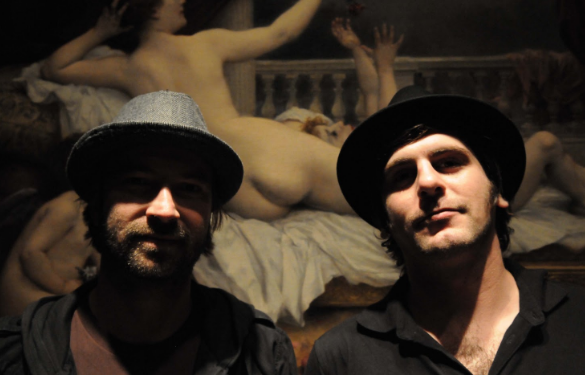 In conversation with renowned music production duo Ancient Astronauts
Image credit: Rob Myers
Ancient Astronauts consists of team Kabanjak (Ingo Möll) and Dogu (Tom Strauch) who have just released their collaborative EP Kampala Fire, and are already speaking of a forthcoming album release – ZIK ZAK. Since launching the label Switchstance Recordings in 2001, the duo has collaborated with a number of renowned acts like The Pharcyde, The Jungle Brothers, DJ Brace, Shawn Lee, and Thievery Corporation. The two fell in love with the unique music and party scene found within the city of Kampala, spurring their decision to collaborate with the local musicians and create an EP together. Kampala Fire features underground musicians and rappers from Uganda who all add their own flavour to the mix.
The duo elaborates on their favourite experiences in Africa below.
Looking back, what were some of your earliest entries into music appreciation? And music production?
Kabanjak:
Watching Jimi Hendrix and Otis Redding perform at Monterey Pop Festival on video as a kid. This was one of those unforgettable "wow" moments in life :-).
Dogu:
For me, it was when I visited Senegal at the age of 17 together with my parents. When I saw how the music of Alpha Blondy was reaching the people and uniting them behind his lyrics and message. That really touched me. That was so different than just being a fan of a pop band that was in the charts and through mass media people got attracted to it. The power of Reggae is a natural one and it does not, and never needed, the mechanisms of mass media to attract people. That showed me the power of conscious music, music with a real message.
Take us through your list of dream software/gear you would like to get?
The UAD Apollo and UAD plugins are the center of our production. This is just our favorite interface to use and it simply sounds amazing. And Ableton Live. And analog equipment, sometimes tape machines.
What do you need with you when you sit down to write or produce?
Kabanjak:
I think the moment you get creative, you need to be able to turn off everything else. It is almost like meditation. This attitude is what I need to start the creative process, and….coffee.
Dogu:
Silence is what I need when I think about new projects. And good food and peace of mind.
What other artistic revenues do you pursue?
If this question is related to income then GEMA and GVL royalties (German collecting societies) and Spotify and sometimes direct payments from synchronization licenses for the use of our music in films, games, etc are what we live from. And DJ gigs, but that was in life before corona.
Studio work and music creation or performing and interacting with a live audience, what do you prefer?
Kabanjak:
I prefer to work in the studio for sure :-).
Dogu:
I enjoy both. Being out deejaying and knowing you can have an impact with the music you play (cause I know I don´t play that usual stuff) is a great thing. It can also be hard, but who said life is easy? If you want to make an impact with what you do, then you have to go the hard way, the non-commercial way. But being in the studio with Kabanjak and working on new music and imagining its impact, and planning new projects, is such a great moment. It is different from playing out, cause you kind of have a look into the future and shape its path. The vision behind our music is very important for us.
What has been the most memorable moment of your career so far?
Kabanjak:
Touring the USA with Thievery Corporation and playing at Lollapalooza Festival in Chicago.
Dogu:
Oh yeah, that was unforgettable that tour with Thievery in all those different US states. And then our gig at Lollapalooza on the DJ stage, that was something else when we made our first experiences with Serato during that tour. Another big memory for me was touring through East Africa for the first time. We did all routes by bus, just like everybody else. No flights cause we did not have the budget. It was really adventurous, cause most of the guys from Kenya and Uganda that I toured with also never took those routes before. It was super nice but also tough from time to time. One of the unforgettable moments on that tour was playing at Bayimba Festival on Lunkulu Island in the middle of Victoria Lake. Or playing on Zanzibar for the first time. Unforgettable moments 😊 .
Name 3 artists you would love to collaborate with in the future
Damian Marley, Buju Banton, Public Enemy and Sampa The Great >>> the magic four :).
Do you think music should provide social commentary and reflect the current world?
Dogu:
Yes, I totally think that. For me, pop music and commercial music is a kind of disease that is blinding the people. We do not need more of that "baby baby i love you" type of music with the same fake attitudes again and again. There are soooo many braggers on TV that just show the negative side of wealth, showing off and pretending that you are better than most of the rest of the world. Big cars, (paid) models, and big (rented) houses in the videos. Always the same shit. We need more conscious music that describes the real things that are happening out in this world, that give hope and show faith in something higher than wealth and material things. Pop music mostly talks about how nice everything is, how you can become the greatest, the most adored, the coolest outsider, and blablabla. it is all just created hollowness, like a second world you can escape to and forget what is happening in the real world. it´s an escape from the real world, and I do not think that it really helps. You gotta face reality in order to change things and make things better. But if those issues are not addressed then nothing will change. If you only talk about the niceness of sunshine then you can never stand the rain.
What can we expect from you in the near future? Any upcoming projects or gigs in the pipeline that you would like to tell us about?
In early 2021 we will release a single / EP with legendary Jamaican Reggae band The Heptones. And we are planning a new album that explores the instrumental side of African music. It is planned for the end of 2021 and will be called RHYTHM ORIGINS.
Follow Ancient Astronauts
Website – Facebook – Twitter – Soundcloud – Youtube – Instagram – Spotify