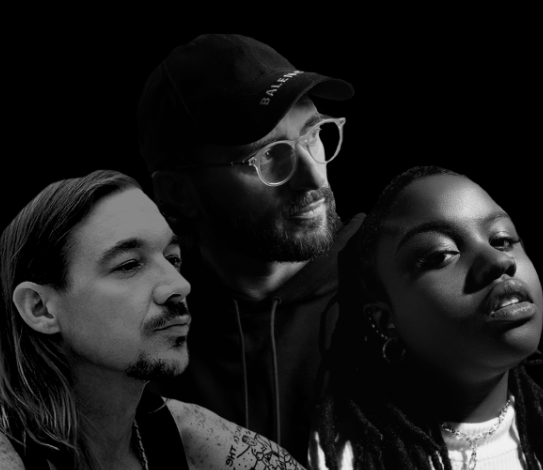 Dance music icon Diplo & DJ Paul Woolford collaborate
Dance music icons Paul Woolford and Diplo have joined forces on new single 'Looking For Me', with vocals from Atlanta born Kareen Lomax released via Diplo's Higher Ground label on 19th June.
A bright, colourful dancefloor jam with serious crossover appeal, 'Looking For Me' pairs piano-led, hands-in-the-air house energy with sensual, contemplative vocals from Kareen Lomax. Woolford hinted at the link-up back in January, when he posted a photo of Diplo on his Instagram account with the caption, "Me and my mate Wes [Diplo's real name is Thomas Wesley Pentz] have been making a monster record and you'll all be hearing it soon…"
Born Thomas Wesley Pentz, Diplo is one of the most dynamic forces in music today under his own name—he just released a long-awaited country album: Diplo Presents Thomas Wesley Chapter 1: Snake Oil—and as a member of the now legendary Major Lazer—whose latest 'Lay Your Head On Me' featuring Marcus Mumford is climbing charts worldwide; LSD, the psychedelic supergroup with Sia and Labrinth whose debut album has been streamed over one billion times; and Silk City with Mark Ronson, whose Platinum-certified 'Electricity' with Dua Lipa topped charts worldwide and won a Grammy Award for Best Dance Recording. As the world's most in-demand producer, Diplo has worked with artists as disparate as Beyoncé, Bad Bunny and Turnstile.
A legendary DJ and producer in his own right, Woolford is best known for 2013 single 'Untitled', a track that has clocked up 1.5 million YouTube streams to date. Also releasing more jungle and breakbeat-influenced music under his Special Request moniker, he continues to reinvent himself and push the boundaries, maintaining a hectic global touring schedule and releasing no fewer than four albums across 2019.
Follow Paul Woolford:
Facebook | Instagram | Twitter I Soundcloud
Follow Diplo:
Facebook | Instagram | Twitter | Soundcloud
Follow Kareen Lomax:
Facebook | Instagram | Twitter I Soundcloud